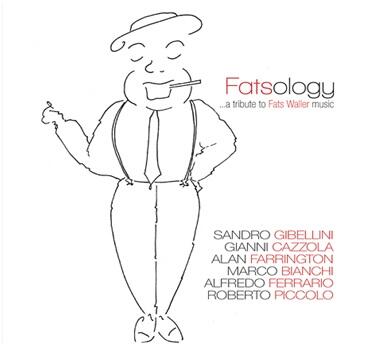 Cazzola, Gibellini, Farrington, Bianchi, Ferrario, Piccolo
Fatsology- A tribute to the music of Fats Waller
Abeat 2017
Innanzitutto un grande apprezzamento per chi ricorda Fats Waller, il Buffone dalle straordinarie capacità musicali, gran compositore e formidabile vocalist, un serissimo burlone che non patì mai la sottovalutazione artistica cui fu relegato dalla discriminazione razziale, fra Ku Klux Klan e perbenismo ciarlatano, la stessa che chiamò "puttana" Billie Holiday, dileggiò il genio di Duke Ellington, proibì alle Radio di commentare le performance di Louis Armstrong, Lester Young , Bessie Smith e lo stile rivoluzionario dell'astro nascente Charlie Parker.
Certo che c'è da divertirsi parecchio ascoltando "Fatsology", omaggio al Ciccione di Harlem cui il padre, predicatore bigotto, proibiva di suonare la "musica del demonio". C'è da sorridere alle solari interpretazioni da crooner di Alan Farrington, ai bei soli di Alberto Ferrario al clarinetto e Marco Bianchi al vibrafono. C'è, soprattutto, da cogliere l'intenzione di svelare un Tempo mitico del Jazz che spesso viene dimenticato o posto nell'angolo dei ricordi per nostalgici, e che invece merita ancora grande attenzione non solo dal lato stilistico quanto più per la sagace spontaneità dell'esecuzione, nei giri abilissimi dell'interplay, nelle ubriacanti aperture armoniche, nello swing delle emozioni immediate, nell'assoluta eleganza del fraseggio sostenuto dai tradizionali "Oh, yeah" di chi adagia lo strumento partecipando ai vortici dell'arrangiatore Sandro Gibellini alla chitarra, di Roberto Piccolo al contrabbasso e del settantanovenne Maestro della batteria italiana Gianni Cazzola, cui va tutta la nostra stima per la sua decennale intelligenza e compostezza inventiva, per l'empatia  che sa creare con il pubblico (40 anni fa lo ascoltai dal vivo per la prima volta. Mi rivelò la trascinante bellezza del Bop, lo seguii nelle sue magistrali prove con Art Farmer, Chet Baker, Dexter Gordon, Clark Terry e Gerry Mulligan; ed inoltre scoprii quanto i jazzisti italiani fossero i più ricercati performers anche in ambito pop: Gianni  suonò per Mina in famosi brani come "Grande, grande, grande" e "E penso a te", tanto per ricordare).
Brani da sottolineare? Il galeotto "Blue turning grey over you" (a memoria del Fats più ubriacone e più innamorato delle dodici battute), l'irresistibile Crescendo di "Stealin' apples", i "saltelli narrativi" di "Hold my hand", la tenerezza crepuscolare di "Keepin' out of mischief now" e, soprattutto, la divertita dissoluzione della superlativa "Ain't Misbehavin'", capolavoro assoluto dello "Stride" e da decenni standard prediletto da chi ama Louis Armostrong (che lo portò al successo),Billie (che ne diede versione struggente e bellissima), Ella Fitzgerald (fantastica con Count Basie nel 1963), Joe Pass (superlativo nel  Solo al "The Oscar Peterson and Friends" della BBC nei primi anni 80, se ben ricordo), Eartha Kitt (travolgente la sua interpretazione "all black"), Ray Charles e la sua intensa dizione pianistica blues per l'early swing .
Blue Notes da un Genio : Oh Yeah...
Fabrizio Ciccarelli
Sandro Gibellini – chitarra, Alan Farrington – voce, Marco Bianchi – vibrafono, Roberto Piccolo – contrabbasso, Alfredo Ferrario – clarinetto, Gianni Cazzola - batteria
1 Blue Turning Grey over You 2 Anita 3 Stealin' Apples 4 Black and Blue 5 Hold My Hand 6 Martinique 7 Keepin' out of Mischief Now 8 Old Grandad 9 Ain't Misbehavin' 10 The Joint Is Jumpin' 11 Jitterbug Waltz 12 All That Meat and No Potatoes 13 Honeysuckle Rose